About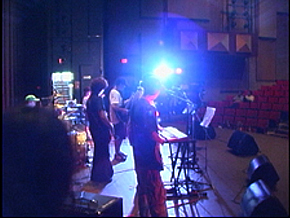 Rock On! Young Musicians Workshop, is an intensive two week program of instrument training, playing in bands, songwriting, recording, and performing.
All instruments and levels are welcome from beginners with one year of training to advanced players with band experience.
At the heart of our program is an outstanding contemporary music faculty that team teaches and coaches the bands through rehearsals and performances.
We provide a professional environment in which students learn to cooperate and work together in a band context.
Rock On! is co-directed by guitarist Jay Fruet and percussionist Chris Mattoon. Andy Kelly, guitarist and director of the Sister City Jazz Ambassadors, has developed our jazz program with saxophonist extraordinaire Charlie Tokarz offering instruction for brass and wind players.
Many wonderful Berkshire based musicians have contributed to the success of this program. Among them is songstress and voice coach Vikki True, bassists Dan Broad and Jeff Link, pianist Ben Kohn, and songwriter Robin O'herin. Our Beginners program is run by Jerry Giguere and Ian Mattoon.
We offer workshops in several different areas: Songwriting with industry veteran Ted Pierce, Band Management with Tony Lee Thomas, and Recording with Greg Steele at Derek Studios. All bands perform on our Friday concerts held in the Boland Theatre in the Koussevitzky Arts Center. Rock On! supports an annual Indie Band fest and an ongoing recording project for local and regional bands.
Location
Berkshire Community College
1350 West Street, Pittsfield MA
Mission
The mission of the Young Musicians Workshop is to provide a platform
for teens to work with professional musicians in a supportive environment that promotes creativity,
collaboration, and performance. We believe in the transforming power of music and strive to build
a community that fosters artistic development and intellectual growth.
Sponsors
Sponsors and supporters include Berkshire Community College,
Day Mountain Sound and Derek Studios.
Equipment provided by Wood Brothers.