Rock On 2014
Berkshire Community College, Pittsfield (July 14-25)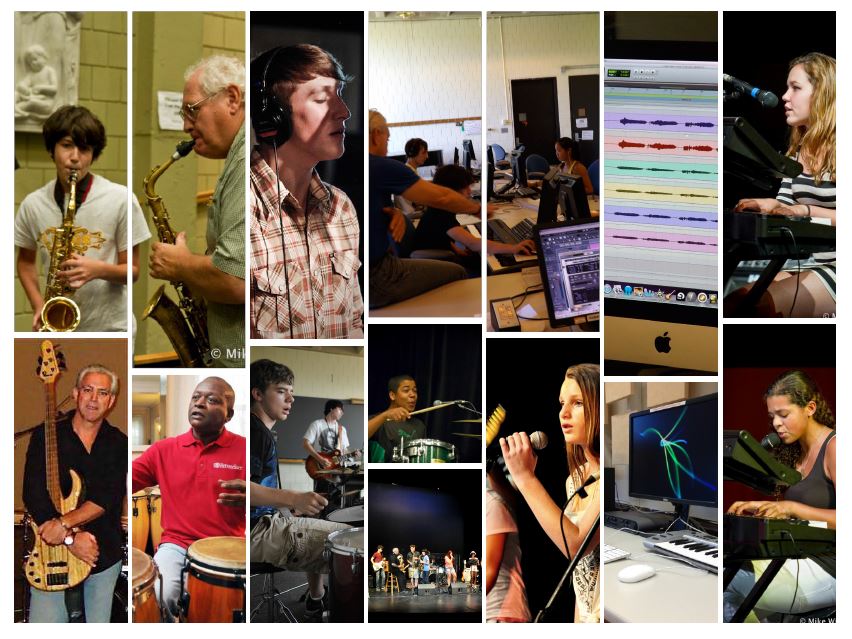 Rock On! Summer music workshop in the Berkshires of Western Massachusetts is for young musicians of ALL levels from beginners with less than one year of training to advanced players with band and recording experience.
Beginners enjoy a fun filled program learning about their chosen instrument, studying the fundamentals of music, and playing in a band under the guidance of a great team of professionals.  We offer training on electric and acoustic guitar, bass, drums, keyboards, voice, strings, and brass. All students are placed in bands by level and musical interests. Bands work as teams in the spirit of creativity, mutual respect, and accomplishment.
New this year, is a workshop in Music Production and Recording Technology. This new component is about the "How To's" of recording live performances using Pro Tools, a state-of -the art digital audio workstation with software for editing and mixing live music, and video post production. Students will also gain hands on experience in the MIDI computer lab looping, sampling, and producing electronic dance music (EDM).  The recording workshops will explore the tools and techniques of microphone placement, sound reinforcement, multi-tracking, and more.. Students will learn how to set up equipment for live recording sessions, and will create their own music compositions in the computer lab. All levels will participate in this new recording component, and will be encouraged to alternate as performers, sound technicians, and audio engineers.
We offer great instruction with Jay Fruet, Andy Kelly, Jeff Link, Ben Kohn, Kathleen McDonald, Livio Gravini and Charlie Tokarz. Bernice Lewis and Robin O'Herin will work alongside guest artists Andy Cohen, Jamie Walters, Cale Hawkins, and Heather Maloney.